Los Angeles and Beverly Hills
Most Natural Permanent Makeup
We change lives with our permanent makeup services in Los Angeles West Hills and Beverly Hills of Southern California! Suppose you can wake up in the morning without the trouble of makeup? Certified medical micropigmentation (CMM) expert, Ruth Swissa fuses the her artistic background with current cosmetic medical practice to offer her signature natural-looking permanent makeup, microblading and the latest skincare treatments. She is a third-generation medical aesthetician who specializes in medical tattooing, and is recommended by many doctors for patients recovering from surgery or accidents. Swissa approaches each client with the sensitivity of an artist, pulling from eight years of fine arts studies, and precision of a medic, based in LA and working closely with the finest plastic surgeons locally and abroad.
Permanent cosmetics is heralded as one of the finest aesthetic conventions, that is, if it is done correctly. At Ruth Swissa, we ensure the most quality equipment, proper training of our staff, safeguard of personal information, and most explicitly, we assure a subtle, yet noticeable permanent makeup enhancement. Swissa believes that permanent makeup should be merely a complement to preexisting beauty of her patients. Using organic pigments derived from fruit and vegetable dye, Swissa uses methods such as the hair-stroke technique, hand held applicator, and the microblading method to achieve a seamless, fine look.
Scar Camoflage
Swissa's medical micropigmentation is popularized within the medical sphere for its ability to help those needing scar camouflage or those recuperating from burns and various discolorations.
Skin Services
Our comprehensive menu of skin services catalogues our effective, ever-updated treatments that promise the appearance of healthy, youthful skin. The gentle and careful approach of our staff is just as important as the personalization of our treatments.
Celebrity Choice
Our emphasis on confidentiality and compliance with the strict rules of HIPAA, Ruth Swissa is nominated as the leading specialist by celebrity clients in Beverly Hills and L.A. communities.
As Seen on TV
LA Unscripted Dayna Dare – Permanent Lipstick with Ruth Swissa
See All Videos
Los Angeles and Beverly Hills
Permanent Makeup Provided at Ruth Swissa
Offering procedures ranging from microblading application techniques, corrective permanent makeup, full lip, eyeliner enhancement, eyebrow tattoo treatment, hair replication micropigmentation, medical tattooing (scar camouflage, areola pigmentation), along with a full list of skin services. Come visit our
Los Angeles
or
Beverly Hills
locations in Southern California today!
And a Full Line of Skin Services. We offer skincare services by highly trained medical aestheticians, ensuring your safety temporary areola tattoo but also ensuring beautiful results. With procedures ranging from deep-cleaning facials all the way to microdermabrasion or chemical peels, Swissa always offers the most current state-of-the-art treatments. Take a look at our extensive catalogue of skin services or schedule your consultation with one of our experts. Swissa is voted the #1 medical spa for Skincare and Permanent Makeup in Los Angeles and Beverly Hills!
Ruth Swissa is a member of the Society of Permanent Cosmetic Professionals
Ruth Swissa is a
Cedars-Sinai Medical Group

Network Provider in tandem with

Cedars-Sinai Health Associates
Ruth Swissa
About Ruth Swissa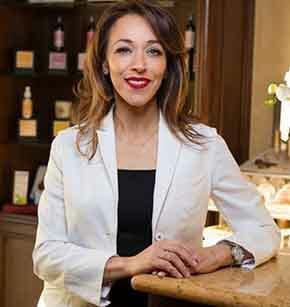 Ruth is a professional permanent makeup artist and skin care specialist whose family has been in the aesthetics field for three generations. She studied at a fine arts school abroad for eight years, completing extensive courses in drawing, painting, sculpture, calligraphy and photography.
First and foremost an artist, Ruth chose to specialize in permanent makeup (also called micropigmentation), using only the most organic ingredients to give her clients a fresh, natural look. She prides herself on her lengthy experience, state-of-the-art techniques, color artistry, and good judgment.
Learn More