Natural Permanent Makeup
Ruth Swissa is voted as #1 Natural Permanent Makeup Los Angeles area! Practicing only with 100% organic pigments and using various techniques (hair-stroke method, hand held applicator, microblading technique, etc.) has enabled Ruth Swissa to achieve the most natural permanent makeup in Los Angeles. This dedication to achieving a natural look also enables Ruth to provide exceptional results in correcting permanent makeup done elsewhere. Her experience in permanent makeup correction is what sets her apart from other micropigmentation specialists. Ruth Swissa is dedicated achieving a natural look, whether you are coming to her for your very first permanent makeup session or seeking to correct an unnatural look done by somebody else.
Ruth Swissa is a member of the Society of Permanent Cosmetic Professionals, a very prestigious and selective multinational organization of only the finest micro pigmentation professionals. What sets Swissa aside from permanent cosmotlogists isn't only her extensive selection of credentials and awards, but her dedication to achieve a natural permanent makeup look. Not only does this single Ruth Swissa out amongst other permanent makeup in Los Angeles, but in the nation. "Permanent makeup shouldn't be noticeable", Swissa says. She explains permanent makeup is simply an enhancement, people should not be able to point out traces of permanent makeup, but rather, notice a beauty that doesn't leave a footprint of cosmetic evidence.
Avoid these Permanent Makeup Mistakes
The natural permanent makeup work that Swissa does is so successful that she works extensively with patients who seek camouflaging micropigmentation procedures, such as surgery scars (mastectomies, skin grafting, and more) and other medical conditions (alopecia, vitiligo, and more).
With two locations, one in Beverly Hills and the other in Agoura Hills, Swissa remains accessible to the majority of her clientele in the general LA area. Swissa is a certified medical micropigmentation (CMM). Micropigmentation (permanent makeup) offers a secure and highly natural look, as opposed to permanent makeup implemented with a tattoo gun. Having an educational background in Fine Arts, Swissa is highly cognizant of what looks realistic and seamless, putting great value on natural-looking permanent makeup. Within the general Los Angeles area (and locations beyond California), Swissa has gotten many clients seeking permanent makeup corrections. Half of Swissa's permanent makeup clientele are sourced from permanent makeup reparation — many being unhappy with how un-natural their previous permanent cosmetic makeup looked.
Ruth Swissa approaches her permanent makeup clients with a rather conservative frame of mind. She always advices lighter color decisions, promising that her clients can always go a shade darker at their free touch-up if need be. For it is always easier to apply more color than it is to take it away.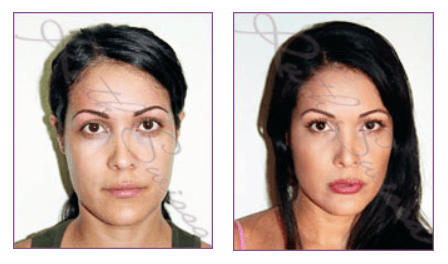 Natural Permanent Makeup in Los Angeles | Full Face Permanent Makeup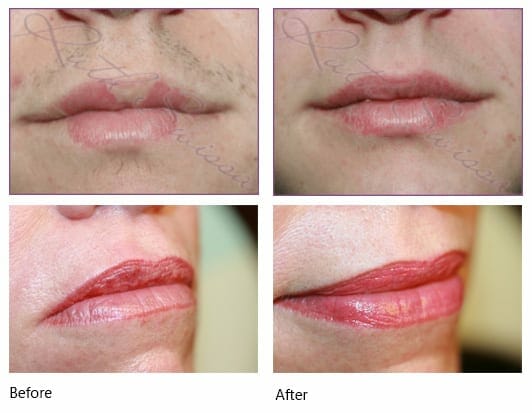 Natural Permanent Makeup in Los Angeles | Permanent Full Lips (permanent lipstick)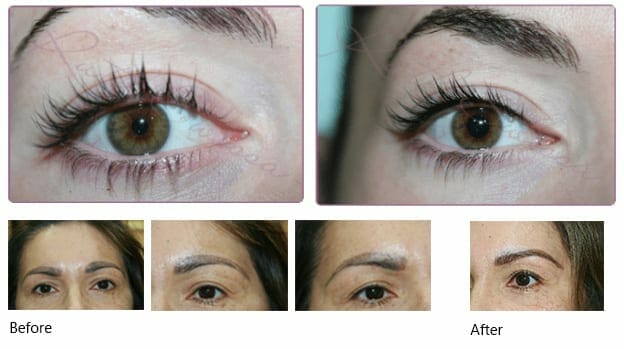 Natural Permanent Makeup in Los Angeles | Permanent Eyeliner (eyeliner enhancement)
Natural Looking Medical Micropigmentation
Aside from natural permanent makeup in Los Angeles, Swissa is also ranked as the top medical micro pigmentation specialist by plastic surgeons and medical professionals. Working close with plastic surgeons, Swissa has become very integrated within the medical sphere and highly esteemed by surrounding experts. Her natural looking permanent makeup has sparked the interest of many doctors, claiming it be the new beauty frontier. Swissa has become the final step in the surgery process — post-post procedure, the frosting on the cake, if-you-will.
Additionally, Swissa's natural permanent makeup techniques have formed newer developments of permanent cosmetic makeup, one being cosmetic hair follicle replication (hair micropigmentation). By using the same fine-precision natural permanent makeup technique, swissa is able to mimic the appearance of hair follicle by depositing the 100% organic pigment in small increments on the scalp. Working on a miniature scale, Swissa is ultimately able to achieve an illusion of hair stubble — a successful and non-abrasive alternative to a hair implant procedure.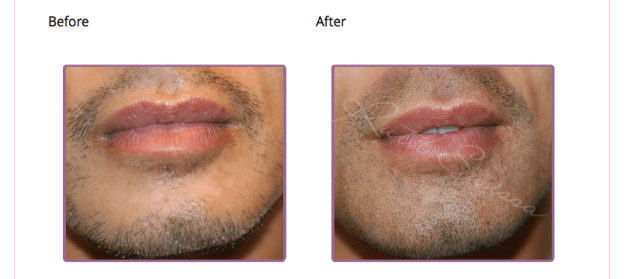 Permanent Makeup Los Angeles | Hair Follicle Replication (hair micropigmentation)
Swissa prides herself in her natural permanent cosmetic makeup technique and modestly holds the title of "Most Natural Permanent Makeup in Los Angeles." Whether its your first time seeking a permanent makeup specialist or looking for permanent makeup correction in Los Angeles, click here to be directed to our other permanent makeup services.
Ruth Swissa
Proud Member of: