C.M.M. Clinical Medical Micropigmentation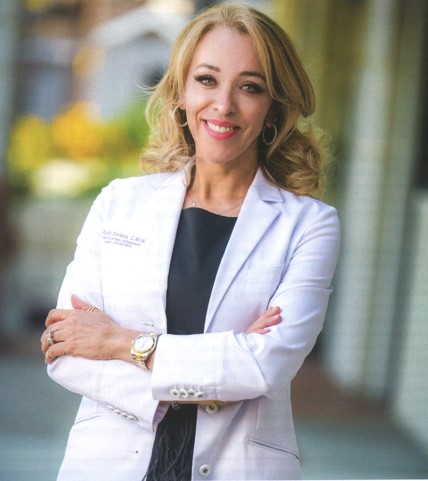 Ruth Swissa, C.M.M., is a certified medical micropigmentation specialist and skin care expert whose family has been in the aesthetics field for three generations. She studied at a fine arts school abroad for eight years, completing extensive courses in drawing, painting, sculpture, calligraphy and photography. Ruth is certified by the Society of Permanent Cosmetic Professionals (SPCP).
First and foremost an artist, Ruth chose to specialize in permanent makeup (also called micropigmentation), using refined and organic ingredients to give her patients the most natural look. She prides herself on her lengthy experience, state-of-the-art techniques (hair-stroke method, microblading, feather brow technique), color artistry (color theory, pigment reactivity test), and good judgment. Swissa is also known for her expertise in the careful art of correcting permanent makeup mistakes done by other facilities. This includes color correction, permanent makeup removal and microblading technique correction.
Ruth works extensively with plastic surgeons, who refer patients to her for medical micropigmentation procedures such as areola re-pigmentation, scar camouflage and vitiligo treatment. She is especially gratified by her work with breast cancer survivors, whom she has helped recover not only physically but emotionally and psychologically.
Ruth Swissa is a network provider for Cedar-Sinai Medical Group and works extensively with their oncological department performing areola pigmentation for their breast cancer unit. Ruth donates her time to breast cancer survivor patients at the Adventist Health White Memorial Hospital, working with underserved populations in the greater Los Angeles area. She is also closely affiliated with UCLA's oncological department for similar pro-bono work.
Swissa works closely with the Grossman Burn Center, providing scar-camouflage treatment for the discolored skin of burn survivors and is an active member of the Grossman Burn Foundation, providing pro-bono scar camouflage work for burn survivors and victims of domestic abuse globally.
Ruth has been featured on numerous seasons of E! Entertainment's nationally acclaimed TV series Botched, starring as the show's scar camouflage expert. Since the expansion of her practice, Ruth has been featured on networks such as KTLA, E! Entertainment Television, ABC, KCAL, Univision, NBC, Fox 11 Good Day LA, and CBS. She has been featured on televised programs, including The Oscars: Countdown to the Red Carpet, Gina's People, Lisa's It List, Health Alert, and Dr. 90210.
Ruth Swissa is a member of the Society of Permanent Cosmetic Professionals, and the American Academy of Micropigmentation. She has received a number of recognitions including Allergan's Patient Care and Medical Aesthetics award, Lifetime Member of the Society of Permanent Cosmetic Professionals, Artists for Trauma Nominee of the Year and Grossman Burn Center Primary Medical Tattooing endowment.
Additionally, Ruth has presented and participated at multiple conferences and symposiums including the American's Society of Plastic Surgeons Beverly Hills Conference, Society of Facial Plastic Surgeons (SAFPAS) Lake TahoeWinter Conference, Cedar-Sinai Breast Cancer Network Provider Colloquium, California Plastic Surgery Newport Beach Conference, Susan G. Komen Race for the Cure Benefit, and Grossman Burn Foundation Press Event.
Ruth Swissa
PROUD MEMBER OF: