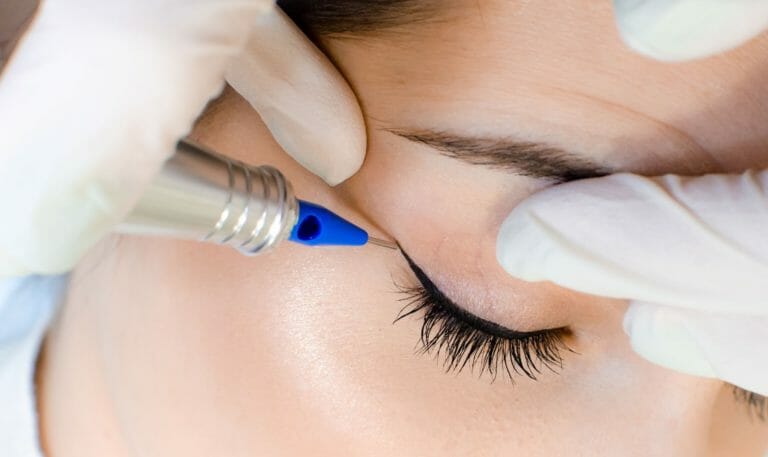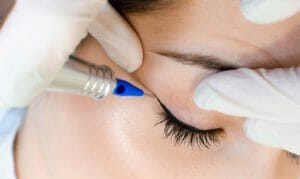 Permanent eyeliner, also known as an eyeliner tattoo, is a form of cosmetic tattooing that is often referred to as semi-permanent makeup. Traditional tattoo artists do not perform this type of tattooing; a trained clinical medical permanent tattoo technician like Ruth Swissa is the only type of professional qualified to give patients a permanent eyeliner tattoo that looks natural and that's delivered in a safe manner.
Permanent eyeliner defines and enhances the beauty of the eyes. The appeal of a permanent eyeliner tattoo is immediately apparent to anyone who has ever been struck by the sheer beauty of certain supermodels' eyes—it makes the lashes appear thicker, even when mascara is not worn. Permanent eyeliner is a well-known secret among celebrities who need to be always camera-ready. Try out one of the most revolutionary and safe innovations in beauty, today!
What Permanent Eyeliner Options are Available? What is the Best Permanent Eyeliner Tattoo Los Angeles Has to Offer?
Ruth Swissa offers two popular options; and both are the best permanent eyeliner tattoo Los Angeles has to offer:
The first option is called an enhancement, which involves carefully placing a thin, natural-looking line along the lash line. Ruth achieves this look by making several small dots along the lashes. The effect is subtle, but effective

The second option involves the skillful application of a permanent eyeliner tattoo and will appeal to those clients who are looking for more of a makeup look. Ruth achieves this look by adding another line on top of the enhancement.
Call Ruth Swissa today for a consultation; once she has had a time to examine your face and discover your beauty goals, she will present you with the best approach to achieving a permanent eyeliner tattoo that enhances the eyes and makes your entire face beautiful and alluring.
How Does a Permanent Eyeliner Tattoo Work?
In both procedures, permanent eyeliner is delicately applied with a sterile applicator made specifically for fine, detailed facial work, utilizing the micro-pigmentation process.
Color is applied along both the upper and lower lash lines, creating a defined but soft radiance around the eyes. If a stronger look is desired, thickness of the color may be increased gradually, over several sessions.
Both during and after the procedure, topical anesthetics are applied to the lash lines, keeping any discomfort to a minimum. We have also recently acquired a new cooling machine that helps numb the eye area, making our clients even more comfortable. It is also advised to take Arnica, a homeopathic pain reliever and swelling reducer, starting the day before the procedure. Some slight swelling of the areas involved may occur, but, with normal care, will diminish and disappear by the end of the first week.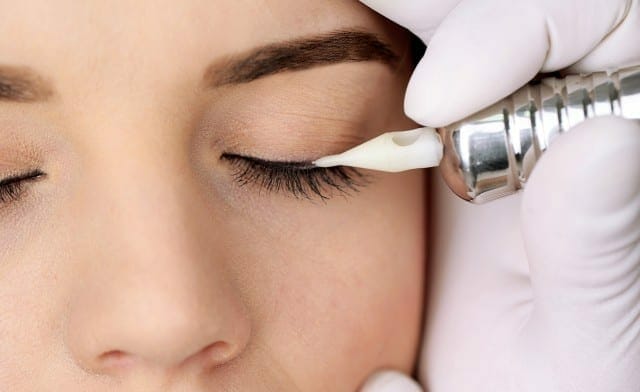 Is a Permanent Eyeliner Tattoo Safe for Everyone, and if Not, Who Should Avoid One?
A permanent eyeliner tattoo is virtually safe for everyone, with a few exceptions. For everyone else, permanent makeup is fine (unless told otherwise by a doctor). However, the following conditions apply to those who should not get a permanent eyeliner tattoo:
Children / People Under the Age of 18 – Ruth Swissa cannot Microblade people under the age of 18 years, even with parental consent.
Individuals with a Pacemaker or Severe Cardiac Complications – Epinephrine, a numbing agent, is used and this product is known to increase people's heart rate and potentially cause dysrhythmias.
Individuals with Disease and / or Viral Infections – People with compromised immune systems pose a risk of developing an infection (for example, those with lupus).
Women who are Pregnant or Nursing – The body is more prone to infections when going through hormonal changes, and because your skin could be changing, the results aren't predictable,
People With Allergies to Metal and Colorant – Ruth Swissa uses small needles and pigments that can contain various metals and colorant, so having these allergies can lead to complications.
Organ Transplant Recipients – People who have received organ transplants run a higher risk of infection.
People with a Skin Condition that Impacts the Area for Treatment – Conditions such as rosacea, eczema, psoriasis, dermatitis can compromise the skin's texture and surface, and this could render the results to be subpar.
Individuals Prone to Keloids – Permanent eyeliner tattooing punctures the skin, so if one is prone to keloids, their healing may come with scarring.
Those Who Use Accutane – Accutane changes the skin making it sensitive, thin, and dry. In addition, it also weakens the immune system. If you use accutane you will need to stop its use for one year before your skin can return to its normal state and be eligible for permanent eyeliner tattooing.
If you are in the clear form having any of the above conditions, then a permanent eyeliner tattoo could be the best way for you to enhance your eyes and overall beauty.
Book a Permanent Eyeliner Tattoo Consultation with Ruth Swissa
When it comes to permanent eyeliner in Los Angeles, Ruth Swissa is the expert that all of Los Angeles County flock to. Having been featured on the hit TV show 'Botched' multiple times, Ruth has demonstrated her incredible permanent makeup skills for all to see and offers the very best services as she is at the top of her industry. Call today for a consultation and begin the journey to living the best version of your authentic self.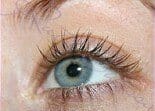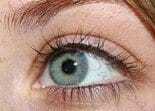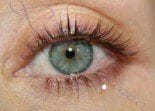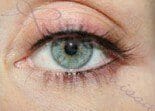 Ruth Swissa
Proud Member of: