Microblading is a cosmetic procedure used to enhance the appearance of the eyebrow, using a gentle needle-lined applicator to deposit pigment into the skin in a stroke-like manner. This technique simulates the appearance of hair in order to create a natural and fuller looking brow.
Fast facts about Microblading
About:
Microblading is a cosmetic procedure that uses a hand-held applicator to deposit pigment into the skin
The purpose of this treatment is to generate hair-like strokes to give the natural appearance of fuller, thicker brows
Microblading technique can be combined with rotary application for those who prefer a more powdery look
Safety:
Microblading is minimally invasive, requiring little to no downtime
This treatment is considered safe for all skin types
You can experience minor redness immediately following the procedure and mild skin flaking a few days following the treatment
Convenience:
Microblading results will significantly shorten your morning routine, allowing for more snooze time
This treatment will enable you to swim, sweat and wakeup with naturally shaped and shaded brows
First time microblading appointments last about 1.5 hours total
Touch-up appointments typically last about 1 hour total
Outcome:
Depending on aftercare compliance, micro blading longevity can last up to 2 years without touch-up appointments
Eyebrow shape, color and technique are tailored to your preference and facial anatomy
Microblading allows you to sweat, swim and wake up with naturally fuller brows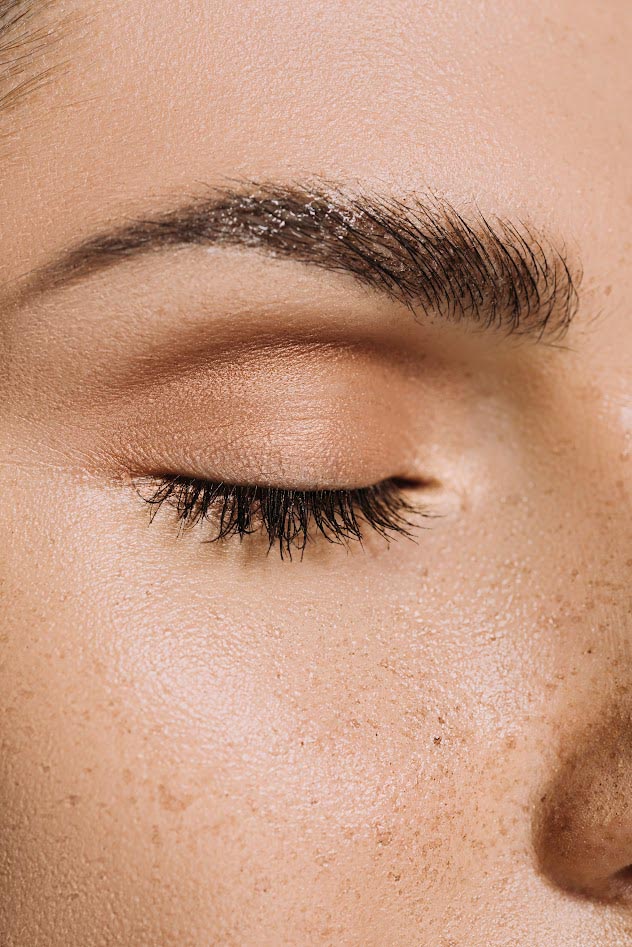 What is microblading?
Microblading is a minimally invasive cosmetic procedure that improves the appearance of your eyebrows. Also known as "feather brows" or "micro-stroking", microblading is best known for its delicate application and elegant results.
Microblading involves a hand-held applicator pen that is lined with nano-blades (typically around 0.16mm in size). This applicator is carefully dragged along the surface of skin in order to generate a hair stroke. Microblading deposits ink into the epidermis, the top most layer of the superficial skin surface.
This procedure is also known as a semi-permanent tattoo. Unlike harsh tattoo machines that deposit pigment deep into the dermis, microblading is un-powered and gently deposits pigment into the upper layer of the skin. This means the pigment may naturally fade overtime, but will not risk the longterm effect of aged and color-changing tattoos.
What is the difference between microblading and combination brow ("powder-brow")?
Unlike microblading which uses a handheld applicator to create micro hair-like strokes, "powder brow" uses a gentle machine in order to create a more uniform shade.
Many people describe this appearance as looking powdery, like a makeup powder.
Ruth Swissa's "combination technique" combines the powder-brow appearance with microblading hair-stroke in order to create a natural yet bold eyebrow look. This technique combines the appearance of ombre shaded brows with hair-strokes for a fuller, elegant eyebrow appearance.
Preparation
Prior to a microblading appointment, patients are urged to avoid alcohol and caffeine 24 hours prior to the procedure. Both alcohol and caffeine have a diuretic effect which causes excessive bleeding during treatment. Increasing the rate of bleeding during microblading compromises the body's pigment absorptive capacity, meaning the treatment may result in less pigment retention.
In addition to avoiding alcohol and caffeine before treatment, patients are advised to stop taking blood-thinning agents (aspirin, niacin, vitamin E, omega fish oils, CoQ10 and ibuprofen) 48 hours prior to treatment. This is indicated for the same reason stated above, agents that increase the rate of bleeding will comprise the pigment retention of the skin.
Procedure
At Ruth Swissa, the microblading treatment begins with a consultation. At this time, the patient and Ruth will discuss desired outcomes and preferences.
Eyebrow shape is then carefully mapped out geometrically using anatomic landmarks and a pigmented thread. This allows for symmetry that naturally flows with the patient's unique facial anatomy — no stencils of templates. This technique creates harmony between the brow, facial features and unique bone structure of each patient.
Eyebrow shape is one of the more important parts of the consultation, as shape alone has the capability of lifting and defining the face.
Following eyebrow shaping, color is then masterfully selected. Depending on the patient's skin tone and hair pigmentation, Swissa will conduct a color test on the skin allowing the patient to better visualize the pigments.
Swissa takes the time to match eyebrow pigment to the natural tone of the skin. With that being said, Swissa also takes into consideration the skin's under-tone, a feature many people overlook during the color-matching process. Skin undertone serves as a great prognostic of how pigment ages and changes with regards to the skin. Taking this necessary step in addressing the patient's under-tone helps prevent color corrections in the future.
After the shape, color and technique are selected, the procedure is ready to begin.
The microblading procedure lasts about 45 minutes and is virtually painless. Medical-grade topical numbing agent is applied to the area prior to treatment to minimize any discomfort during the procedure.
Once the patient fully anesthetized and ready, Swissa will begin the microblading procedure using a sterile blade and high-quality pigment.
Swissa meticulously creates individual strokes that blend seamlessly with existing brow hairs, resulting in natural-looking eyebrows that enhance facial features and frame the face.
Safety and precautions
With over twenty years of experience, Ruth Swissa is one of the pioneers of permanent makeup, specializing in eyebrow pigmentation and creating trade-named techniques in eyebrow semi-permanent tattoos. Certified specialist and a life-time member of Society of Permanent Cosmetic Professionals, Swissa takes all the necessary safety precautions during the microblading procedure.
Although minimally invasive, the microblading procedure does puncture the surface of the skin, which may elicit minimal bleeding. Swissa approaches the procedure using a sterile technique in order to preserve the safety of the patient and herself from blood borne pathogens.
Following the treatment, topical antibiotic ointment Bacitracin is applied to the area for 24 hours in order to prevent any potential for infection.
Outcome
Eyebrow microblading typically lasts between one to two years, depending on various factors such as skin type and lifestyle. Touch-up sessions may be required to maintain optimal results. At Ruth Swissa, a complimentary touch-up is included after 4-8 weeks from the initial session.
It is important to choose an experienced and certified professional for this procedure as it involves working on delicate facial skin and greatly can impact one's facial appearance.
Proper aftercare instructions should also be followed to ensure proper healing and longevity of the microbladed eyebrows. This includes avoiding excessive sweating or exposure to water for at least five days after and applying the healing ointment for five days post treatment.
Is there any downtime?
No. Post-treatment, patients are advised to avoid the following:
Avoid getting the newly microbladed brows wet for at least 5 days post-treatment (i.e., swimming, showers, wet sauna, etc.)
Avoid heavy sweating for about 5 days following procedure (i.e., working out)
Avoid using Retinols/Retin-A on the eyebrows, as this will cause the brows to fade prematurely
Try to avoid direct sun-exposure to the brows to preserve longevity of the pigment (we suggest SPF or a sunhat)
Avoid chemical peels on the brows (this will cause peeling and premature color fade)
Additionally, we advise patients to comply with the after-care instructions supplied following treatments. This includes post-care management and ointment application for proper skin healing.
What to expect during your appointment
As a first-time patient, you will arrive 30 minutes prior to your appointment in order to fill out new patient paperwork.
At this time, one of our experienced staff members will numb your eyebrows prior to the service with medical-grade topical anesthetic solution.
Following paperwork and numbing, you are ready to begin your consultation with Ruth Swissa. Closely assessing your eyebrows, you and Swissa will go over your desired outcome including eyebrow shape, color and technique. The consultation is tailored to your preference and your unique facial anatomy. This means no stencils or templates, shape and color is determined based on your distinct characteristics.
Once you and Swissa have reached an agreement, the procedure is ready to start.
The service typically takes around 45 minutes to an hour. You can expect to be treated at our office for about 1 hour and 30 minutes depending on the decided technique. An after-care kit will be provided post-treatment and a complimentary follow-up will be scheduled for you.