Select a Peel Category to learn more about the various peels offered at Ruth Swissa Permanent Makeup and Skin:
1. The Perfect Derma™ 
The Perfect Derma Peel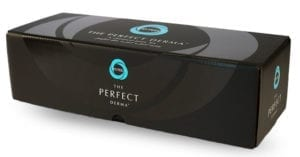 The Perfect Derma Peel is a safe, effective medium-depth peel for all skin types and ethnicities (Fitzpatrick 1-6). This treatment requires no pre-peel skin preparation and has a minimal downtime of only 5-7 days of peeling. The product is virtually painless and is effective in lifting fine lines and wrinkles as well as lightening Melasma, sun damage and hyper pigmentation.
The Perfect Derma Peel is the only peel that includes the powerful anti-oxidant Glutathione, which lightens and brightens the skin, slows down the aging process and helps prevent wrinkles.
Benefits:
• Improve the overall clarity, tone and texture of the skin
• Reduce or eliminate hyperpigmentation, sun damage and Melasma
• Improve acneic skin conditions and reduce acne scars
• Stimulate the production of collagen, resulting in firmer, more youthful skin
• Reduce the appearance of pore size
Ingredients:  TCA, Retinoic Acid, Salicylic Acid,  Kojic Acid, Phenol, Glutathione and Vitamin C
2. Skin Medica®
Illuminize Peel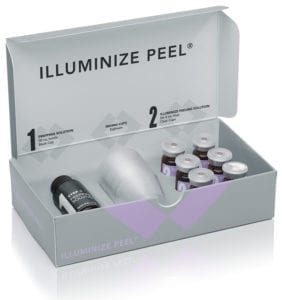 The Illuminize Peel is a medical grade chemical peel which delivers a nice "glow" to the skin immediately. This mild peel exfoliates dead skin cells in a manner similar to microdermabrasion, but without the abrasiveness of the crystals and without the risk of spreading bacteria across the skin as the microdermabrasion wand has a tendency to do.  The result is a quick glow without any peeling or downtime. This peel is ideal for individuals who want something more invasive than a facial but cannot have the downtime of peeling.
Vitalize Peel
The Vitalize Peel is our most popular peel which exfoliates your dead skin resulting in less acne, less acne scarring, less brown spots and less sun damage. Two days after this peel is applied the skin starts to shed from the chin up to the forehead for a duration of about 2-3 days.  If you want to peel during the weekend, we suggest receiving this peel on a Wednesday evening.
Rejuvenize Peel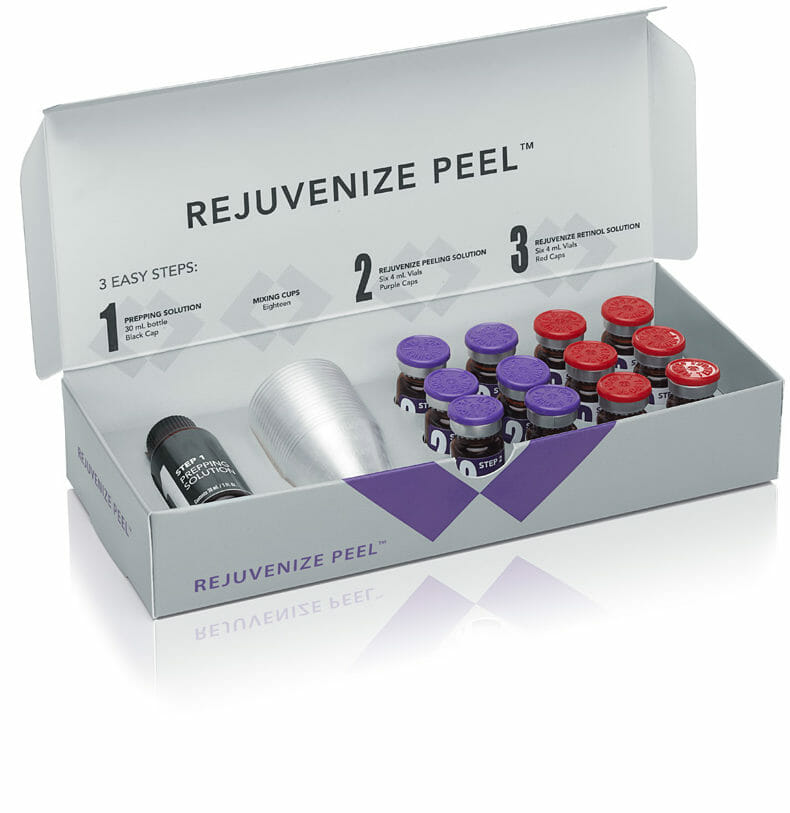 The Rejuvenize Peel is the strongest of the 3 peels and is ideal for those who have already had other peels and are now tolerant to medical grade peels where individuals are now seeing less shedding of dead skin when other chemical peels are performed. This peel may result is some mild redness and an increase of skin peeling two days after this peel is applied. The duration usually lasts about 3-4 days.
4. VI Medical Products
VI Peel
VI Medical Products offer innovative clinical skincare formulations using scientifically proven, results oriented ingredients designed to achieve and maintain skin health for all skin types and conditions. VI Medical Products uses synergistic blends of active ingredients formulated to: improve tone and texture of skin, diminish the appearance of skin discolorations, reduce the appearance of pore size, soften the appearance of fine lines and wrinkles, improve acneic skin conditions and stimulate fibroblast activity while increasing collagen and elastin production for firmer skin.
The VI Peel and and VI Peel Acne represents the next generation of chemical exfoliants unlike any others you might have experienced. Each treatment includes a specially formulated post peel kit which is an essential component for treatment success; delivering superior results to improve your patient's skin.
Also available is the Precision Peel which is made from the same synergistic blend of ingredients as the VI Peel, but at a higher concentration, for a treatment that is about 25% stronger than a VI Peel. Precision is an excellent addition for treating stubborn hyperpigmentation including melasma, actinic keratosis and age spots on hands, arms or chest. The Precision Peel is to be used in conjunction with the VI Peel.