Silky Smooth Complexion and Short Term Rosy Glow!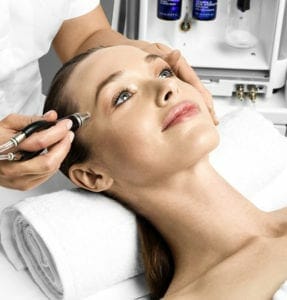 Microdermabrasion uses the fine particles of aluminum oxide (micro crystals) to gently exfoliate the skin. This removes dead layers of cells in the skin and stimulates the production of new collagen and cells in those deeper layers. Non-invasive, this technique leaves you with a silky smooth complexion and a short term rosy glow!
Microdermabrasion is great as a standalone procedure. By unclogging the pores and removing surface layers of skin, skin is given the opportunity to restore its vitality.
Reduce the appearance of age spots and blackheads

Improve skin discoloration

Exfoliate the skin, resulting in a dewy glow

Reduce surface scars, including acne scars

Give the skin a smoother surface

Reduce enlarged pores

Reduce fine lines
How does it work?
Skin is made up of two main layers, the epidermis and the dermis. The epidermis is the layer closest to the outside world. It's a set of dead skin cells on top of another layer of cells that are in the process of maturing. The topmost layer is called the stratum corneum. The stratum corneum mostly acts as a barrier between the outside world and the lower skin layers. It keeps all but the smallest molecules from getting through.
All of the action in microdermabrasion takes place at the level of the stratum corneum. Since it only really targets the epidermis (and not the dermis), Affecting deeper layers of skin would be painful and harmful, and it would risk permanently embedding the tiny crystals into the skin.
Microdermabrasion works as a superficial treatment utilizing a wand to "sandblast" the upper layers of the skin. Tiny aluminum oxide crystals sweep the surface of the skin, exfoliating dead skin cells. Following exfoliation, loose cells are vacuumed away from skin surface.
The microdermabrasion system is incredibly successful due to the unique combination of employing a high-velocity vacuum and the microscopic size of the exfoliating particles. The aluminum oxide crystals are sterile and self-contained so they never touch human hands before they come into contact with your skin.
Ruth Swissa
Proud Member of: