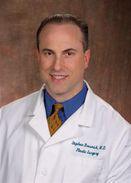 Dr. Stephen Bresnick
February 20th, 2010
To Whom It May Concern,
This letter is to commend the excellent work of Ruth Swissa, a highly skilled professional permanent makeup artist and expert in micropigmentation. I have know Ms. Swissa for over 10 years and refer patients to her exclusively based on the quality of her work, ethics, and professionalism. My referrals have included patients desiring permanent makeup, such as lip and brow treatment, as well as patients requestion medically-oriented services such as scar camouflage and reconstructive breast pigmentation.
Ruth performs cosmetic permanent makeup beautifully and with much skill. Her work is the best I have seen. Her treatment of breast cancer patients and scar Camouflage has greatly enhanced their results and patients are very appreciative of her great work and warm personality. Ms. Swissa has my highest recommendation.
Sincerely yours,
Stephen Bresnick, M.D.
Board Certified Plastic Surgeon
Assistant Clinical Professor
Department of Plastic Surgery, USC School of Medicine


Ruth Swissa
Proud Member of: