The procedure of microneedling is used for overall skin rejuvenation and when coupled with PRP application allows for more beneficial results. The PRP is allowed to seep into the dermis through the microchannels created by the micropen for a delivery of platelet rich growth factor and deep collagen synthesis.
Microneedling is a natural treatment that promotes the body's healing-inflammatory response to promote skin regeneration and collagen production. Using the finest technology, our microneedling device will create a collection of fine, micro-injuries to the skin's surface (as the small needles poke the surface of the skin).These needles are inserted at a pre-determined depth to create small microchannels/micropores in the skin which will promote healing and collagen production. This treatment can be coupled with PRP to enhance the results of the skin. Microneedling all-natural skin treatment is safe for all skin types. This treatment is a non-invasive and chemical free treatment which utilizes your own body's 'reparative cells to regenerate new collagen and elastin to rejuvenate your skin.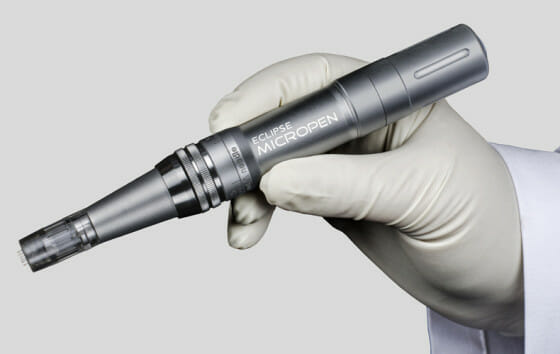 At Swissa Med Spa, microneedling is a safe, chemical-free treatment that allows your body to trigger new collagen production for your face. It is a minimally invasive treatment that uses fine needles to create micro-perforations in the skin. This type of controlled dermal injury triggers the body to generate new collagen and elastin.
Microneedling helps soften the signs of aging (i.e., fine lines, wrinkles), fade acne scars, minimize pore-size, and generally improve overall skin texture for a youthful and refreshed appearance. Microneedling, unlike some laser treatments, is safe for all skin colors and types.
What are the benefits of microneedling?
Improves fine lines and deeper wrinkles

Reduces acne scars

Softens stretch marks

Evens skin tone

Lightens hyperpigmentation and sun spots

Reduces appearance of pores

Firms and smooths skin texture

Heals scars

Reduces broken capillaries and spider veins

Brings back the glow for fresher, younger-looking skin
Which type of microneedling tool?
We use the Eclipse™ Micropen for microneedling, or collagen induction therapy at Swissa Med Spa.
View this post on Instagram
View this post on Instagram
View this post on Instagram
Ruth Swissa
Proud Member of: